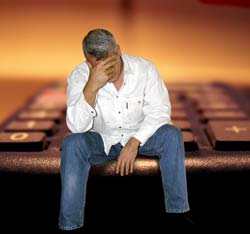 I often hear professional horsemen apologizing about their lack of a website for their business. I sense they feel ashamed of their missing tech prowess. For some reason, in their minds, the absence of a web address is comparable to not having a telephone number and listing in the phone book.
It's not.
The fact is that not everyone needs a website for his business. Plenty of businesses survive year after year without one. I suspect they will continue to survive for many years, too. Good business practices and a satisfied customer list promoting word of mouth advertising is a traditional formula which will do more for business longevity than the slickest website could possibly ever do.
However, marketing is a continuous process and for those professional horsemen who want a website for their businesses to be available for marketing at any time of day, consider these points:
Strive for SIMPLICITY. A man or woman with a spastic trigger finger on a mouse button will desert your home page at the first roadblock or complex decision he or she finds.
Readers have SHORT ATTENTION SPANS. Why make it difficult for them to find the things they are looking for? Make your information easy to find.
This may hurt your feelings, but I will say it anyway. NOBODY CARES ABOUT YOU. At least not at first. People are coming to your site because they want more information about what their choices are to fill their wants and needs and to solve their problems.
Music moves the soul, but not the same music moves every soul. Let iTunes handle the music, no musicals on the home page please.
How much does a website cost? The answer is similar to the answer of the question how much does a horse cost? The universal answer, " Depends on what you want it to do. " Just like a horse, they start at a few hundred dollars and go up from there.
If you want to start a website for your business, the first thing to do is answer these questions with the WIFFM ( What's in it for me?) approach for the reader.
What exactly do you do?- example, boarding and lessons.
Why you are good at it? ex. Experience, attitude, philosophy, you love what you do.
How you do it? ex. Program description, benefits not available elsewhere, record of results.
When and What's the next step to get started? ex. Phone call, email, farm visit, interview.
Get those WIFFM questions answered clearly for the reader, hire a reliable, professional designer and get it done! Skip the temptation to save money by hiring a student, friend or relative to design you site.
Professional horsemen hire professional help for professional results.
If you'd like some help with defining what you are really good at, why you are good at it and exactly how you do it, call me.
I'm really good at putting your message into words that will bring your prospects to a sliding stop and halt to want to know more. click here to send me an email or phone me at (716) 434-5371